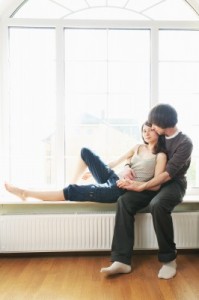 Vinyl window replacement have a range of benefits to your property and your day-to-day family life. With so many choices of style and material available in the Greater Toronto area, it's hard to choose which one is right for your home. Local Toronto, Mississauga, Oakville, Brampton and expert home improvement companies in Thornhill, Richmond Hill, Markham and Pickering endorse vinyl products as a cost-effective and energy-efficient way to enhance any building. Here we've listed 5 advantages of buying vinyl windows over other options:
1. Enhances appearance of property and has great durability
Vinyl has a shiny and smooth surface, and it's flexibility allows it to be used on any window replacement. It is produced in a multitude of colors such as white, cream and brown, and it can also be purchased in a wood grain texture to suit houses. The vinyl frames and fittings are manufactured to the color you require, and this color never fades away or blisters through strong sunlight or weather conditions like other plastics. There is no need to paint the vinyl, as it's a wipe-clean surface. Top-of-the-range installments use metal parts to secure the structure, and these will never get that yellowy-look or break. Always opt for a provider that does not use these cheap plastic pieces so you're fittings will stay in great condition for years to come.
2. Increased Energy Efficiency
In contrast to old wooden or even metal frames, vinyl makes a tight and impenetrable seal around the entire window area preventing chilly drafts throughout the year. The highly insulated structure assists in keeping homes warm air in winter and cool in summer, with minimal loss. They are able to do this without the common loosening or warping effects on the internal and external seals. For added efficiency, some providers also stock double-sealed paneling and specific installations for every replacement needed at the property. A recent development called low-E glass, boosts energy saving in the home- it reflects the heating solar rays in summer whilst still letting light enter at the same brightness. The glass also protects furniture inside the house from harmful UV rays that can fade furniture, carpets and wallpaper.
3. Minimal Maintenance Required
Vinyl is a great material that does not allow dirt to get into its smooth surface, so hardly any cleaning is required. There's no expensive wood cleaners to buy with vinyl, a quick wipe with a damp cloth and spray leaves the surface looking like new in seconds. You can even purchase windows that tilt-in or have a swing-in sash style that permits easy cleaning of the outside glass. No more laborious sanding the surface then applying paint ever again!
4. Easy Reparation and Quick Replacement
A quality product like vinyl windows will last the property for years, but sometimes accidents happen that can't be avoided. If the glass is accidentally smashed, there's no need to panic about a replacement for your specific window. Every window has a unique serial number, which gives the vinyl window producers all the data they need to replace the smashed pane:
Size
Glass type
Color
Style
Parts like handles and hinges can be ordered very easily, and many local branches of your retailer will have these in stock all the time to pick up. The top manufacturers should have all these features included in their product.
5. Outstanding Warranties
The majority of new vinyl windows come with impressive warranties due to their robust construction. Coverage is available in many different lengths , but whichever one you go for make sure to choose a Lifetime Limited Warranty. This special warranty completely covers the product until you have sold the property. These extensive warranties are only possible because vinyl window manufacturers know the high quality, lasting durability of them, and are proud to put their name to them.
These are just some of the great reasons for choosing vinyl windows over their wood or steel counterparts. Whichever style you choose, you can be sure that it's a great product that will last year after year.