Special Shapes Windows
Every homeowner has his preferences and unique needs. This is a fact that GTA Windows and Doors specialists understand. Are you looking for a different architectural look to your home? Would you like to create more focal points or exciting accents in the room? Or does the idea of having complementary designs at the entrance of your house excite you?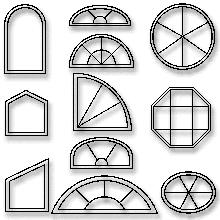 Specialty vinyl replacement windows from our firm may either be used to complement the overall architecture or showcase your home personality. For the most suitable look to your home, pick from our huge variety of sizes and shapes of vinyl replacement windows. It doesn't matter how sophisticated home design is – GTA Windows and Doors will offer the best energy efficiency through quality services and products in the Greater Toronto Area. After being in this business for decades, they have perfected the art of combining functionality and beauty.