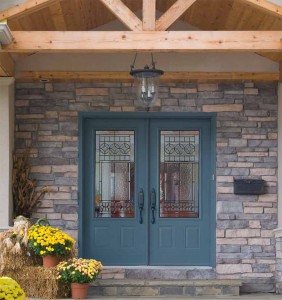 GTA Windows and doors has created the art of giving only quality and eye-pleasing entry doors. These doors will please any customer because of the beauty and practicality.
GTA understand that your entry door will give a lasting impression on the home and will give your guests an idea of what will be on the inside. We believe in only selling doors that have three precise features: practicality, aesthetic beauty, and safety. GTA can offer all of these qualities in the entry door you choose.
Steel Entry Doors
Every individual wishes that they can have a comfortable and stylish place to live in. Anyone would want to feel safe from any harsh weather or risky behavior. These exact people are looking for a steel door for these reasons.
It's easy to create a home that is protected from weather or animals. However, now-a-days we have to worry about intruders as well. It's essential to keep your family out of harm's way. A more durable and strong door, such as steel doors will be beneficial.
There are a lot of devices, as well as systems available to purchase so you can keep your home secure and safe from any intruders. There are protection systems, cctv cameras, burglar alarms, among other security systems. Typically just about everyone wants to have one of these systems in their home. Unfortunately these systems are not perfect and they can malfunction. When that happens, your family's safety could be in danger.
Fiberglass Entry Doors
If you've been looking for raising the value of your home for boosting your living experience or for resale, you should contact GTA. GTA Windows and Doors always offers a great solution for you to be able to remodel your home with fiberglass doors. There are three ways that you can give your home value with fiberglass doors.
Enhanced Energy Efficiency- This is one of the major aspects to fiberglass doors. They have great insulation; even more than wood. Very little maintenance is required. You will be able to save money on your energy bills with these types of doors.
Durable and Long-Lasting- Fiberglass doors are more strong and durable when purchased from GTA Windows and Doors. These doors are strong enough to be able to protect against dents and dings. The fiberglass will not warp, twist, deteriorate, blow, rust, or rot.
Garden Doors
The view that can be captured with our garden doors is just amazing. These doors will add great character to your home. Leave an impression on your guests with the functionality of these doors and the gorgeous details. One side is a fixed unit, as the other is operating. You will be able to choose between no-grilled doors, or grilled doors, mini blinds, frosted or combination. You will be able to prevent outdoor noise, as well as hard weather conditions with the weather proof seals. The glass that's in the door will be able to captivate the gorgeous view of the magnificent day and nights. The doors are manufactured while keeping all the quality standards and the energy saving in mind. We will provide optimum service to each customer.