Vinyl Awning Window Replacement and Installation
Perhaps the best part of vinyl awning windows is the fact that they are hinged at the top; this can certainly prove to be very advantageous. Apart from this convenient feature, they are also highly energy efficient owing to the fact that one can shut them tighter as compared to sliding windows. This helps provide a more secure seal against chilly drafts. An additional feature of awning windows that makes them popular is their airflow efficiency; they open out at the bottom due to the hinge thus allowing ventilation where required. In fact, homeowners who love the catch the breeze every once in a while, must certainly opt for awning windows. The fact that you can even keep these windows open while it is raining outside adds to their popularity. There is absolutely no risk of the rain water coming inside your home, since these windows draft the air to the exteriors rather than bringing it indoors. You also have the added flexibility of using a combination of awnings and casements and this can give an assorted look and also vary the level of ventilation in different parts of the home. So, you can easily ventilate your home, despite the weather outside.
Awning Window For Your Home
Any original window can be replaced with awning windows; even the ones over your kitchen counters and sinks. They are perfect for all types of replacement projects irrespective of the shape/material used in the existing window design. The hinge is however an important consideration to make for the replacement project and is certainly going to make a lot of difference as to how the final design will appear. Naturally the inherent clean and non-cluttered look of our awning windows helps fulfill this requirement and makes the product the most superior one in its category in the market. We also customize windows to individual liking as per the recommended energy STAR ratings by using precision technologies and are available to serve an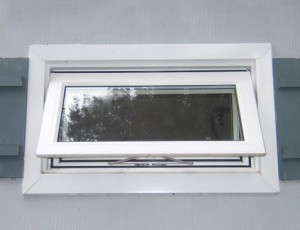 ywhere in the Greater Toronto Area featuring Woodbridge, Mississauga, Ajax, Oakville, Markham, Brampton, Aurora, Newmarket, Stouffville, Richmond Hill, Thornhill and Pickering.
Thermal Vinyl Awning Windows Features:
31/4″ welded frame
Triple white co-extruded weather-strip sealing system
Interior dry glazing bead with white co-extruder for safety and easy replacement of sealed unit 7/8″ thermal Super Spacer sealed unit for optimum efficiency
Separate multi-chambered design adds insulation, strength, drainage, and the prevention of condensation
Heavy duty truth hardware
Standard multi -point hardware and standard collapsible handles
Removable overlap internal screen